Did you miss out on the frenzy surrounding BabyDoge in 2021 and PEPE in 2023? Fear not, because the next big thing is here – Baby Oggy Inu! Welcome to a world where baby steps meet moon leaps in the exciting realm of cryptocurrency!

Remember the wild excitement of Oggy Inu's moon mission? Well, for those who missed the rocket ride to riches, here's something even better: Baby Oggy Inu, the tiniest, fluffiest, and most adorable addition to the crypto family! Inspired by the success of Oggy Inu, Baby Oggy Inu is set to become the Next Big meme on Binance Smart Chain.
Why babies, you ask? Who can resist those chubby cheeks and tiny paws? Certainly not us! And we've all witnessed baby tokens like BabyDoge soaring faster than a toddler chasing after an ice cream truck!
So, buckle up, Oggiayans! Baby Oggy Inu isn't just another token; it's a fluffy, giggly, and oh-so-loveable meme coin that's bound to make you smile wider than a kid in a candy store!
At Baby Oggy Inu, we understand that not everyone had the chance to be part of the initial Oggy Inu frenzy. That's why our mission is crystal clear: to provide a second chance for those who missed out and to create a project that resonates with both new and experienced investors. We aim to replicate and enhance the success of Oggy Inu by blending the power of a strong community, innovative tokenomics, and the irresistible charm of a baby-themed token.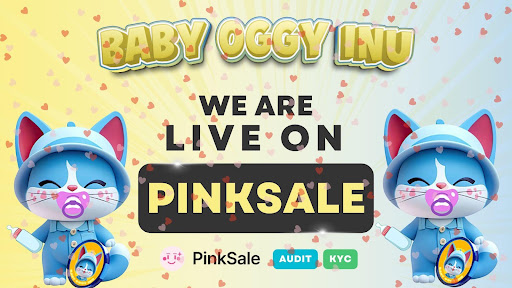 Baby Oggy Inu Token Presale Details:
Presale Live on Pinksale: Ending on October 27, 2023, at 16:00 UTC
Low Starting Marketcap: With a well-connected team and massive marketing efforts planned
Buy Presale : https://www.pinksale.finance/launchpad/0xBf66fe8B701C338E92Fb11c1edB48172910808c4?chain=BSC
Tokenomics:
Total Supply: 420,000,000,000 BabyOggy
Tax on Buy/Sell: 2% on DEX, 2% for Marketing
Contract Address: 0x92D1879f51d86CA91C3b8F02d7b82ec3ae54B685
Rest assured, Baby Oggy Inu's contract has been audited and the team has been KYC approved by Pinksale.
Pancakeswap Listing: Scheduled on October 28, 2023, at 14:00 UTC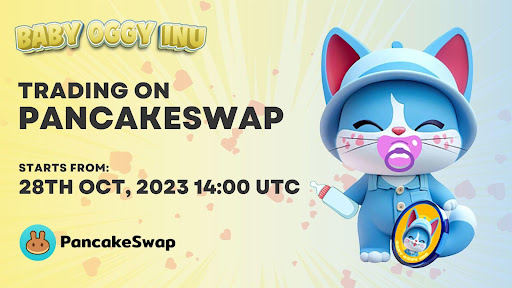 Join us on this thrilling journey as we embark on the adventure of creating a thriving and successful community-driven project. Whether you're a crypto veteran or a newcomer, Baby Oggy Inu welcomes you with open arms. Get ready to experience the magic of baby tokens and be part of something truly extraordinary. Together, we'll make Baby Oggy Inu the next big success story in the cryptocurrency world!
Contact Information:
Contact Person: Michael Rory
Website: https://babyoggyinu.xyz

Telegram: https://t.me/baby_oggyinu
Disclaimer: The information provided in this press release is not a solicitation for investment, or intended as investment advice, financial advice, or trading advice. It is strongly recommended that you practice due diligence (including consultation with a professional financial advisor) before investing in or trading securities and cryptocurrency.