Bitget, the leading cryptocurrency derivatives and copy trading platform, has recently announced the support of the brand upgrade of Merit Circle (MC) to Beam (BEAM) and the listing of the newly migrated token on its platform. The transition is set to take effect on 26th October and listing of Spot Grid Trading will go live on Bitget within 24 hours after trading commenced.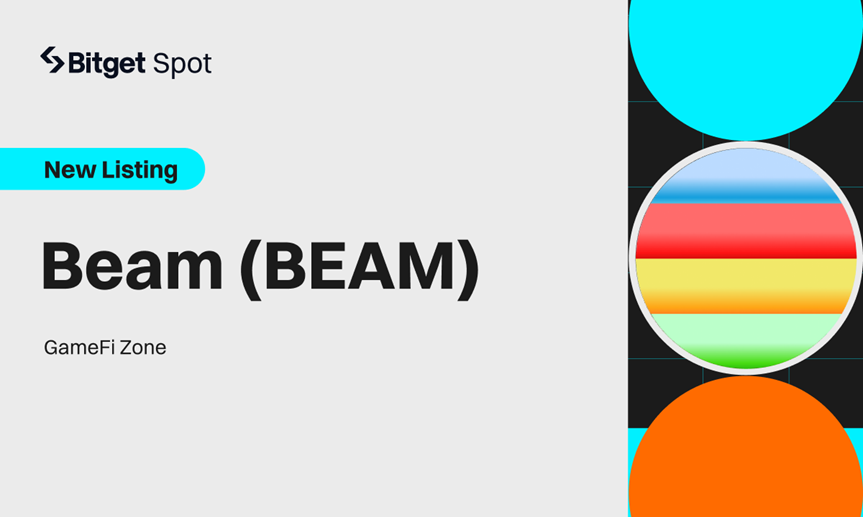 Beam (BEAM), previously Merit Circle (MC), operates as an open-source blockchain specialized for gaming, revolutionizing the gaming landscape by simplifying the intricacies of game development and placing the focus firmly on enhancing the gaming experience for players.
"We are dedicated to listing innovative projects, and will support token migrations as we provide our users with diverse investment opportunities," said Gracy Chen, Managing Director at Bitget.
The Merit Circle token $MC is migrating to $BEAM as a result of the acceptance of both MIP-28 and MIP-29. This migration has been initiated by the DAO to better align with the current activities and practices within the Merit Circle ecosystem.
Positioned as an ecosystem that streamlines game development complexities, Beam (BEAM) has garnered attention for its player-centric approach, aiming to revolutionize the gaming industry's dynamics. Operating on the Ethereum public chain, Merit Circle (MC) has demonstrated notable on-chain activity with 11,694 holding addresses and reached 870 transactions in a 24-hour period.
The Decentralized Autonomous Organization (DAO) GameFi project, has recently showcased a resurgence in trading volume and price, reflecting a 13.37% increase in a day and an impressive 59.53% surge over 7 days, with a daily trading volume of $4.75 million. The MC token has already been listed on many prominent exchanges – and the upgraded BEAM is set to expand its market presence further.
About Bitget
Established in 2018, Bitget is the world's leading cryptocurrency exchange and web3 company. Serving over 20 million users in 100+ countries and regions, the Bitget exchange is committed to helping users trade smarter with its pioneering copy trading feature and other trading solutions. Formerly known as BitKeep, Bitget Wallet is a world-class multi-chain crypto wallet that offers an array of comprehensive Web3 solutions and features including wallet functionality, swap, NFT Marketplace, DApp browser, and more. Bitget inspires individuals to embrace crypto through collaborations with credible partners, including legendary Argentinian footballer Lionel Messi and official eSports events organizer PGL.
For more information, visit: Website | Twitter | Telegram | LinkedIn | Discord | Bitget Wallet
For media inquiries, please contact: [email protected]